Back & Posture Support Cushion
 Our Back & Posture Support Cushion is specially designed to take the pressure off of the tailbone and the lower back while still providing support for the rest of the body and spine.

Back & Posture Support Cushion is a natural solution for back pain and sciatica relief or just everyday comfort while sitting. It helps relieve most back pain by reducing pressure on the tailbone. The ergonomic contour design further promotes proper spinal alignment and a healthy posture.

Instant Results From day One!
This Unique Design Helps With
 Back pain
 Healthy posture
 Sciatica nerve pain
 Blood circulation
 Muscle fatigue
 Herniated discs
 Pregnancy
 Surgery recovery
 Injuries to the lumbar region
 Save $1,000's In Massage, Physio & Chiro Fees
  This Back & Posture Support Cushion is orthopedic and ergonomically designed to distribute weight evenly through the left and right sitting bones.
Recommended For:
  Pain or numbness from sitting for long periods of time
  Road trips, long flights, seated desk work
  Extra cushioning for uncomfortable office chairs
  Padding for a hard surface (e.g. wooden chair, bench)
  Bruised, fractured, inflamed, or broken tailbone
  Healthy posture & proper spine alignment
  Herniated, bulging, slipped, or prolapsed disc
  Pelvic pressure & hip pain 
  Pregnancy or labor-induced coccydynia
If you spend significant time sitting in your office, car, or home– a proper seat cushion can make a world of difference. In addition, it is also very suitable for pregnant women and wheelchair users.
 Absorbs pressure points
 Allows proper air circulation
 Retains shape
 Strong & durable design
 Made of ultra-flex polymer
 Unique honeycomb construction
 Fits most chairs
Suitable for use on an office chair, Car seat, Wheelchair, Travel, Road trips, Long flights, Seated Jobs, Trucks & RVs, Kitchen seats, Recliners, Sports Bleachers, Movie Theaters, Classrooms, Church, Meditation and more!
The same study showed that for people who used gel Posture Cushion for 6 months their posture and pain level improved massively. Our Posture Relief Back Support Cushion will relieve your pain so you can now sit comfortably at any time & at any place.
Help Relieve Pain
Effectively prevent and alleviate various pain symptoms, including tailbone issues, lumbar strain, sciatica, and degenerative disc issues.
Relieve sedentary fatigue, avoid soreness and numbness caused by compression of the buttocks muscles, create a relaxed and comfortable sitting position, and let the body relax better.
How You Sit Impacts Your Health
Good Posture Is Essential For Health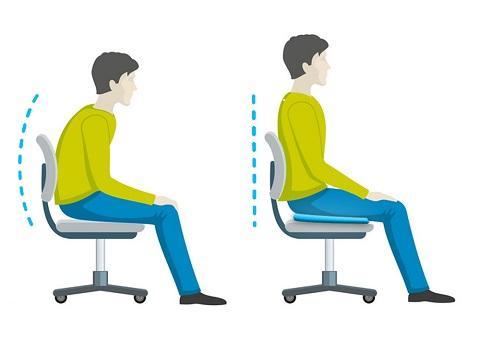 AUSTRALIAN OWNED - Supporting Australian's health and wellbeing
 MULTIPURPOSE -  Can be used use anywhere & any time on most chairs
 PREMIUM QUALITY - Made with medical-grade gel
 FREE COVER INCLUDED - Comes with its own washable, black protective cover.
 FREE AUSTRALIA-WIDE DELIVERY - FREE Australia-wide delivery
 SATISFACTION GUARANTEED -  If something is wrong with your order, we have 14 days' money-back guarantee 
 Our Posture Seat Cushion promotes better airflow to reduce heat and humidity for extra comfort.
Feel Safe With A 14 Day Money Back Guarantee!
We are Australia's leading health store if the product arrives damaged, broken, or out of shape, feel free to contact us within 14 days of arrival & receive a FULL REFUND no questions asked! 
  Size - The size of this cushion is  42, 37, and 3.8 cm in width. The weight is about 1100g. 
The Newest-Gen Back & Posture Support Cushion is 42cm, 37 cm and the thickness is 3.8 cm and the weight pressure on these cushions is up to 90kg.
Package Included:
1x gel cushion + Its own black cover
Support Local Business
 


 


-->