Sciatica & Tailbone Support Cushion
 The Sciatica & Tailbone Support Cushion is one of the best ergonomic seat cushions that is made to enhance circulation for long hours on a seat with each gel pocket. It is designed to ensure pressure-releasing support for hips, coccyx (tail bone), lower back, spine, sciatic area, and glutes. 
Say goodbye to aches and pain and discover ultimate sitting comfort with our Sciatica & Tailbone Support Cushion.
This Unique Design HELPS WITH
 Back pain
 Healthy posture
 Sciatica nerve pain
 Blood circulation
 Muscle fatigue
 Herniated discs
 Pregnancy
 Surgery recovery
 Injuries to the lumbar region
 Save $1,000's In Massage, Physio & Chiro Fees
Recommended For:
  Pain or numbness from sitting for long periods of time
  Road trips, long flights, seated desk work
  Extra cushioning for uncomfortable office chairs
  Padding for a hard surface (e.g. wooden chair, bench)
  Bruised, fractured, inflamed, or broken tailbone
  Healthy posture & proper spine alignment
  Herniated, bulging, slipped, or prolapsed disc
  Pelvic pressure & hip pain 
  Pregnancy or labor-induced coccydynia 
When you sit on our Sciatica & Tailbone Support Cushion, your coccyx hovers above the U-shaped rear cut-out, preventing lower back pain, discomfort from prolonged sitting, and also tailbone, sciatica pain.
This cushion gently cradles your buttocks, while the ergonomic wedge structure distributes weight evenly and promotes healthy spine alignment. It is orthopedic and ergonomically designed to distribute weight evenly through the left and right sitting bones.
How You Sit Impacts Your Health  So A Good Posture Is Essential For Health
Suitable for use on an office chair, Car seat, Wheelchair, Travel, Road trips, Long flights, Seated Jobs, Trucks & RVs, Kitchen seats, Recliners, Sports Bleachers, Movie Theaters, Classrooms, Church, Meditation and more!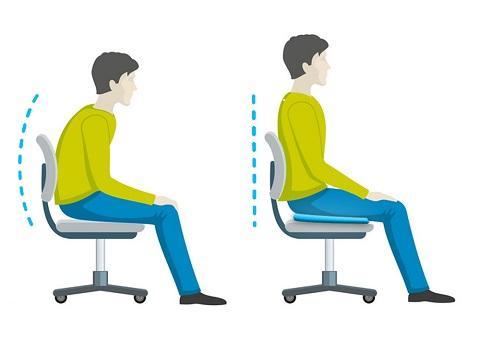 Absorbs pressure points
 Allows proper air circulation
 Retains shape
 Strong & durable design
 Made of ultra-flex polymer
 Unique honeycomb construction
 Fits most chairs
 AUSTRALIAN OWNED - Supporting Australian's health and wellbeing
 MULTIPURPOSE -  Can be used use anywhere & any time on most chairs
 PREMIUM QUALITY - Made with medical-grade gel
 FREE COVER INCLUDED - Comes with its own washable, black protective cover.
 FREE AUSTRALIA-WIDE DELIVERY - FREE Australia-wide delivery
 SATISFACTION GUARANTEED -  If something is wrong with your order, we have 14 days' money-back guaranteed. 
Feel Safe With A 14 Day Money Back Guarantee!
We are Australia's leading health store if the product arrives damaged, broken, or out of shape, feel free to contact us within 14 days of arrival & receive a FULL REFUND no questions asked! 

The Premium Sciatica & Tailbone Support Cushion is suitable to use in cars, office chairs, wheelchairs, kitchen chairs, truck seats, home desk chairs, recliners, any hard surfaces, and also people suffering from sciatica and tailbone pain.  The weight pressure for these cushions is up to 120kg
 Size - The size of this cushion is  45cm, 41cm, 34cm, and the thickness is 3cm. The weight is about 1100g. 
 Package Included:
1x gel cushion + Its own black cover
Support Local Business
-->